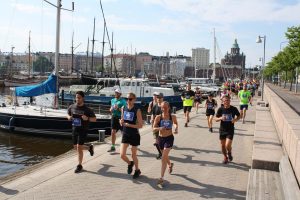 Virtual Helsinki Half Marathon 2021 is over – thanks for everyone who participated!
Helsinki Half Marathon 2021 was postponed from June to August (will be run 21.8.2021 together with Helsinki Marathon), but virtual version was run in June and results are now published.
Medals and t-shirts will be posted to participants who ordered them during the summer.
Final Results
If you have any questions regarding the results, please contact us by email to info@helsinkihalfmarathon.fi.
Virtual Helsinki Half Marathon 2021 – Men
1 Hannu Laurila 1.22.35
2 Uros Kralj Vitezi Dobrega Teka 1.26.32
3 Matjaz Ster individual from SLOvenia 1.38.56
4 Felix Stein 1.45.11
5 Sebastian Sandell Sandell Fitness 1.45.55
6 Marko Hollanti Tampereen Maratonklubi 1.49.51
7 Aandres Siim Suomi 1.50.00
8 Henri Ryhänen Eltsu SloMo 1.54.56
9 Arto Pesonen FC Monari 2015 1.56.18
10 Claes Grägg 1.58.39
11 Tomi Marttila Helsinki 1.58.40
12 Tommy Karlsson 1.58.54
13 Teemu Kälviäinen 1.59.24
14 Petteri Mikander 1.59.42
15 Artem Kosmachevskiy Toucan.run/ Russia 1.59.58
16 Stephan Klatt-Lafitte Berlin // Germany 2.00.18
17 Pasi Hämäläinen Kerava 2.06.07
18 Juha Luukkola 2.06.56
19 Lauri Mehtonen 2.07.22
20 Jarmo Myllymäki Käyppälän Makuulta Ampujat 69 2.08.53
21 Enrique Tébar Hurtado 2.09.55
22 David Colacios Ruiz Spain 2.10.10
23 Tuomas Rajamäki 2.11.27
24 Juha Vasama Pori 2.11.53
25 Nikita Leshin 2.12.06
26 Mathias Granberg 2.12.34
27 Carl-Magnus Cedercreutz CSF 2.16.50
28 Tomas Sundholm 2.21.52
29 Juuso Isoherranen 2.23.18
30 Sami Hantula 2.26.53
31 Mika Bergman Sartsun personal tsemppari 2.31.29
32 Florian Ruschbaschan 2.33.41
33 Edgars Mezvevers 2.37.33
34 Hieu Cao Vietnam 2.37.47
35 Wynand Boshoff Sweden 2.39.20
36 Iiro Lindgren 2.46.42
37 Rami Granqvist 2.48.38
38 Robert Fischer New York Road Runners 2.48.52
39 Yolan Coeman Derpster's high 3.05.59
Virtual Helsinki Half Marathon 2021 – Women
1 Aurora Papotti Italy 1.36.49
2 Kaarina Bäck Runner's Club 1.51.32
3 Brienne Jenkins 1.51.41
4 Noora Aarnio 1.55.04
5 Irene Hurmerinta 1.55.27
6 Virve Sipola Kestävyyttä pintakaasulla 24/7 1.57.02
7 Linda Löfbacka-Skog Ik Falken 1.59.39
8 Felicia Willman Finland 2.00.22
9 Mara Mezvevere 2.03.22
10 Sanna Ryhänen Eltsu SloMo 2.05.18
11 Suvi Heikkuri 2.05.19
12 Janika Kirjavainen 2.05.43
13 Susana Lamana Arenas 2.06.00
14 Kristina Ekqvist 2.06.04
15 Sanna Haikonen Vantaa 2.07.39
16 Jenny Somero 2.08.35
17 Cristina Lahuerta 2.10.30
18 Leena Larimo 2.10.47
19 Sara Aronen 2.11.58
20 Henna Mattila 2.12.01
21 Ida Hemming 2.12.04
22 Anu Tamminen 2.14.02
23 Anna-Marja Niemi Hyväntuulen juoksukoulu 2.14.27
24 Sari Pitkänen Suomi 2.15.00
25 Maria Karjalainen 2.15.05
26 Sara Hintsala 2.15.44
27 Camilla Cedercreutz CSF 2.16.28
28 Tarja Cedercreutz CSF 2.17.37
29 Hanna Ikonen 2.18.15
30 Paula Andreasen 2.18.37
31 Anniina Anttila 2.19.55
32 Anu Raahenmaa 2.23.30
33 Suvi Eronen 2.23.52
34 Elina Nikko 2.26.32
35 Essi Mäkinen 2.27.34
36 Aino-Maria Pöyhiä 2.34.00
37 Natasha Maraschin Sweden 2.34.05
38 Laura Kotiranta Suomi 2.34.18
39 Tuija Linnapuomi 2.38.13
40 Piia Lindroos Finland 2.39.59
41 Laura Pesonen 2.40.37
42 Merja Olari-Sintonen 2.42.58
43 Paula Reittonen 2.43.47
44 Eine Mäklin 2.46.52
45 Camilla Selenius Finland 2.47.29
46 Meri Laurila 2.48.28
47 Frida Hasselblatt 2.52.52
48 Christina Aro TNT Laihia 2.54.15
49 Minna Aro TNT Laihia 2.54.16
50 Sumire Oda Japani 2.57.17
51 Therese Thölberg 2.57.24
52 Anke Sjaba 3.04.13
53 Pauliina Junnikkala Derpster's High 3.04.23
54 Claudia Neiman 3.07.36
55 Ronja Palkonen 3.09.28
56 Mia Laine Rovaniemi 3.22.00
57 Jenna Pekkala Vapaaehtoinen 3.34.10