The Helsinki Half Marathon Clock is ticking!
As I write my latest blog I have 63 days 10 hours 29 minutes and 02 seconds until race day! Not that I'm counting!
March was a pretty productive month as far as training is concerned I'm following a training plan and sticking to it in fact I've only missed one day of training since I've started following the plan.
I have to say this is possibly the most serious I've taken my training leading up to a race for a long long time and I'm feeling good both physically and mentally.
I've shed 3.5kg in weight and this has helped me pick up my pace when hitting the streets.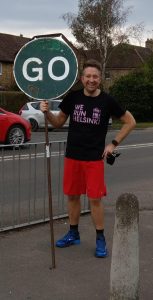 I'm really buzzing about this race, I've wanted to visit Helsinki for quiet a while and I've wanted to run a race abroad so I'm actually killing two birds with one stone!
I can't wait to get out to Finland i mean it's recently been voted the happiest country in the world! Why wouldn't I be excited about visiting!
Slight nerves about being an ambassador, I seem much older and not as fit as the other Helsinki Half Marathon ambassadors!
The Starting line is in sight!!!