Sukat Ja Sandaalit
When in Rome, do as the Romans do… Or so goes the saying.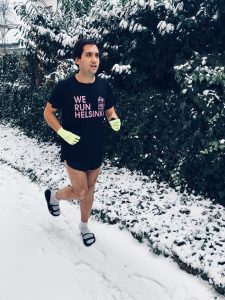 With less than 100 days to go for the 2018 Helsinki Half Marathon, I decided to embrace local customs: Socks and Sandals (Sukat Ja Sandaalit, in Finnish).
Jokes apart, the cold temperatures in Europe caused by the impact of Climate Change at the North Pole have become an additional challenge in my preparation this season.
Not that I mind the snow or the cold but having the appropriate gear at hand can be tricky when if you travel as much as I do for work.
The other difficulty is that a like eating as much as I like running. And who can say no to a Pfannkuchen in Berlin, a croissant in Paris or some chocolate in Brussels?
After completing the Polar Night Half Marathon in Norway, the next milestone will be the Frankfurt Half Marathon (11 March). This will be a good opportunity to test the fitness level and start the long runs ahead of the Madrid Rock & Roll Marathon (22 April).  
Another recent addition to my 2018 running calendar is the Amsterdam Half Marathon (21 October); a nice cool down after the Chicago Marathon (7 October).
Whilst I want to give my legs some weeks of rest in August, I am still looking for ideas to bridge the gap between Helsinki and Chicago. Do you have any suggestions?