Spring Awakening
*inhales deeply* Finally! Spring has sprung and it feels like change,
that "I can do anything" mojo is all around. Now is the time to 
challenge yourself to something new and exciting. Like going for a
balloon ride? (Never done this) Or surviving an Easter dinner
relatives attack with dignity? (Been there) Or running a half
marathon? (Wink-wink)
My season has unexpectedly started on April Fool's Day and I ran a
charity run raising awareness to the autism issues. April 2 is World
Autism Day and Russia is quite poor in terms of good socially
supporting initiatives. There's just one foundation in this enormous
country supporting adults with autism helping them adapt. Isn't it
crazy? Anyways, finished that sludge-sleet-sand 4 km run with a 19:45
result, which is okay.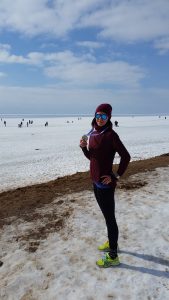 This run helped me fight back against the mental wall. You know, the
one in the middle of your race preparation, when you feel like you've
been thrown in a middle of a lake and it's kind of silly to turn back,
but you're not really willing to swim forward, when you can stay in
that middle waiting for a boat to pick you up. Right now I'm typing
this already wearing my sports clothes determined to get to the shore
yet unknown, so that I could sit there afterwards enjoying the breeze
and opening a bottle of something with that cool medal. By the by,
have you seen THE medal? If not (how dare you), go straight to
@helsinkihalfmarathon Instagram account and marvel. If this is not
motivating enough, then I don't know.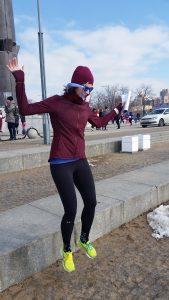 My training is gaining momentum right now. I run 4 times a week doing
fartlek sessions, intervals and finishing with a long run every
Saturday. Today, for instance, it's 5 km + 2 sessions of 3 km at a
faster speed. Gonna rock this track! 5-6 times a week I do short 30-40
min. yoga sessions to channel that running oomph into some
pretzel-like poses.
For my fellow runners out there, I found a nice quote to finish my monologue.
"You have to forget your last marathon before you try another. Your
mind can't know what's coming". Frank Shorter said that. It does apply
to HMs as well. On km 16 you tend to overthink your life choices just
as you do on km 32.
Stay tuned and make the right choice. I mean, sign up for this race.
It's gonna challenge you, take your breath away (in all ways possible)
and let you know what true fun is.