One month to go!
A third of this year is already over. Am I the only one who feels as if time is flying by like a space rocket? How come it is already May? May is the busiest month of races for me this year. Starting from the 1st of May, I will have six races in six weeks. When I planned all of this, I thought it would be just fine, since I will be in my best shape and ready to tackle whatever comes my way. This plan, however, has kind of failed.
By the middle of April the VO2max indicator on my Garmin had risen to 50, the exact same value I had last autumn. I was in my best running shape back then and in quite good shape in April as well. Since the second half of April my shape has unfortunately not been improving. I have been feeling more tired. My stride feels heavy and weak instead of light and strong. I'm not sure whether it is the high stress levels of my work that have been affecting me; whether something is wrong with my health or whether the mistake has been in my training. All I do know is that I'm not feeling like myself and it has started to affect my emotions in a negative way. That is never a good thing.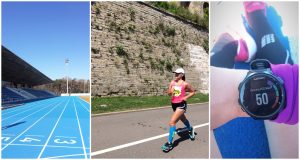 But as I like to say: keep calm & carry on. On the 1st of May I had the toughest 12K "mud-race" in Viljandi. I was literally hit the wall on the 5th kilometre and suffered for the next 7 km-s. It was a tough race, both physically and mentally. On the 13th of May I will have a challenging 24K trail run: Tartu Forest Marathon. We are expecting a sunny 23 degree weather which is bad news for all Nordic runners since we are used to a lot cooler temperatures. My goal for that race is to take it as a long tempo run and simply survive in the heat. On the 19th I will participate in Tallink Maijooks (7 km), a race dedicated only for women. As it happens, I'm the cover girl of Maijooks this year, so I'm very much looking forward to that run.
The next important race is 2 weeks before HHM2018 on the 27th of May: I will try to run a personal best 10K in Rapla. Fingers crossed for cool, cloudy weather! One week before HHM2018 I will do a test-run 5K at a charity race in Tallinn. The grand finale of the spring season will take place on the 9th of June. The BIG day, the highlight of my spring season & the race that matters the most: Helsinki Half Marathon. I'm really hoping to be in better shape by then since I would love to run a personal best half-marathon in Helsinki. All there is left to do now is keep hoping, believing & not overtrain. Fingers crossed!
Regards
Margit