Winter is coming!
Have you watched Game of Thrones? If this is the case, I am sure that you will be familiar with the meaning of expressions such as "The winter is Coming" and "The North Remembers". Well, this could pretty much be a good summary of my running goals for the first half of 2018:
After the end of the running season in Frankfurt, I took some weeks to travel around Europe and obtained my license as running trainer from the Athletics Federation of Hessen. On New Year's Eve and for the sixth consecutive year, I ran the largest fun run in the world: La San Silvestre Vallenca (10 Km).
Yesterday, we travelled to Tromso (Norway) for the Polar Night Half Marathon. Just above the polar circle, this is said to be one of the most amazing runs in the world. And I must confess that I am equally excited and scared: although I have run before under extreme cold conditions in cities like Detroit (US), this will be the first time that I participate in an official long-distance night race. Will we survive the cold and dark night of the north? Let's hope so!
Back in Frankfurt, the second Half Marathon of the year will take place in the beginning of March. Frankfurt's Half Marathon is not only the first race of the Main-Lauf-Cup (a regional running league) but also a good preparation for the Madrid's Rock 'n' Roll Marathon in April. My goals for these two races are 1 hour 35 minutes (Half Marathon) and 3 hours 30 minutes (Marathon).
May will be the month of Sacher-Torte and Wiener Schnitzel. After two consecutive triumphs in Greece and France, I hope to lead the ECB Running Section into its third victory at the 2018 Eurocross in Vienna (Austria).
Finally, if all goes well, I hope that you and I will celebrate together the arrival of summer at the Helsinki Half Marathon (6 June)!
#HHM2018 #helsinkihalfmarathon #WeRunHelsinki
Best running regards from Tromso!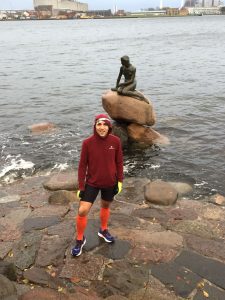 P.S.: I can't tell you much about the second half of the year yet, but let me say one word to you:
CHI-CA-GO (24 October)
New Year's Resolutions:
With all these races ahead of me, I need some New Year's Resolutions:
Get used to run with spikes and long-pants before freezing in Tromso's Polar Night!

Stretch more often and do not miss any appointments at the physiotherapist.

Do more longer interval trainings (at least 2.000 meters intervals)

Find some hills in Frankfurt in order to train for Helsinki

Listen to my body when it says "enough is enough"

Drink less wine and sleep more.