Hello Helsinki!
The winter in Lithuania is finally coming to an end. With warmer weather and longer days, my
preparation for Helsinki Half Marathon is gaining bigger impact on my day to day life. Time is
ticking and even though calendar tells me it is still almost 3 months left, I need to start sweating
right now. To be honest, Helsinki Half was the first race I've planned for 2018 season.
Nevertheless, it became my biggest challenge too, as I am looking forward to breaking my PB
there. I love the feeling when racing in new countries and it does not happen that often so I am
really hyped about this event! Shall we take a sneak peek at my experience while preparing for
June 9th so far?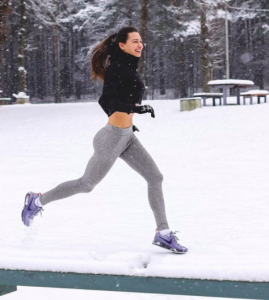 The beginning of January 2018, I've started weight training to strengthen my whole body and
guess what, I can already feel the positive outcomes. Moreover, I am eagerly waiting for the
last snow to melt to increase my running mileage, do more sprints, hills and interval training. It
has already been the most active winter I ever had and I can't wait to see what this spring holds
for me as well as participate in some awesome races.
Speaking of awesome races, I have just done my first ever trail race on March 4th and it was a
blast. Incredibly hard track with pillows of snow and lots of running mixed with sliding down the
hills, climbing over fallen trees, crawling and falling down every few minutes. I fell not only
down but also in love with trail running, therefore, I am planning to do some of that as it
increases my stamina and coordination a lot. If everything goes well, my next race is on 15th of
April. Also, I have booked an entry for a beautiful half marathon on the 5th of May. It is called
"Birštono Pusmaratonis" and is taking place in a part of the country covered by lush green
forests and stunning river bends. I am sure it will be a perfect benchmark for my body to test
my abilities before Helsinki. Anyhow there will still be a whole month left to recover and push
me even further! One week before Helsinki Half Marathon, we have another amazing race
called "We Run Vilnius" where I am also thinking to participate even though I am still not sure
about the distance. How much do You think I should run – 5K, 10K or do the Half Marathon?!
Finally, I am thinking about running my first Marathon this autumn too! Have no idea where but
I promise to find a good one! Feel free to share any thoughts on this one and hope to see you
running!