Somehow it is already March and spring; all the races are approaching at light speed. Here
in Estonia it is still winter, though. A real winter. The temperature has been below –10
degrees for a while now. If you consider also the wind chill, the temperature in the
mornings has dropped as low as –29 degrees. All the roads are covered with a layer of
snow and ice. As you can imagine, training outdoors is quite the challenge right now.
Fortunately for me I have an indoor track near me and that's where most of my runs
have taken place during the last couple of weeks. In addition to that, I was ill with flu (I
think); had to take a small break from training. But now I'm back working on my goals.
My training week usually starts on Monday with a steady, easy pace 40 minute run (or a
40 minute fartlek, depending on what our coach has planned for us) accompanied by 45
minutes of core training. On Mondays I train with my running group that is instructed by
our coach. On Tuesdays I usually rest and go to a foam rolling class to keep myself
flexible and injury-free. On Wednesday my running group has interval training. In
December we took a little time off intervals but started again in January with short,
intense intervals (200 m, 400 m) and continued that in February, slowly building up to
longer intervals (up to 1000 m). On Thursdays I usually do a slow, easy pace run, up to 1
hour. Fridays are for BodyPump that is a great group workout to build endurance and
strength simultaneously. Saturday is rest day and on Sundays I usually do a longer run
with some of my best buddies from my running group.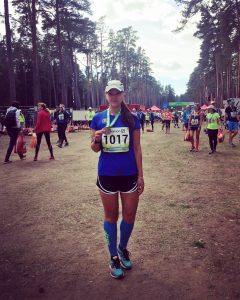 I have funny tradition to run a special birthday run. My birthday is on the 27th of
February. The tradition is to run as many kilometres as how old I become on that
birthday. It is a great way to motivate myself to train during the colder months (January
& February). I started that tradition in 2015 when I became 23 years old. That year I ran
my birthday run alone on the streets of my hometown Tartu. The next year some of my
running buddies wanted to join & we ran 24 kilometres in the chilly winter weather.
Last year the weather was even tougher: the night before my birthday run it started to
snow heavily. We ran 25 very difficult kilometres that day in loose salty snow. (If some
you do not know, salt is used is some countries to melt the snow & ice from roads in the
winter.)
This year I was not even sure if I can run my birthday run & keep the tradition going. I
had just recovered from an illness, it was terribly cold and snowy outside and I had missed
my last long training run. My running group and me had trained for almost 2 months to
prepare us for my birthday run that was going to 26 kilometres long this year. So… What
to do? I wasn't going to risk getting ill again. The only option was to run it indoors.
Yes, you read that right. Last Sunday we ran 110 laps on an indoor track. Exactly 26
kilometres. It took us a little over 3 hours. I had feared it was going to get boring but it
was actually so much fun. We chatted the whole way, indoors it was nice and warm, no
hills and it was super comfortable to get water (that would have been a hassle outdoors in
–15 degree weather). Some people joined halfway, some ended a bit earlier: everyone
could pick their own distance. I ran my birthday run with 15 amazing friends this year.
It was a blast!
As you can see, during the past couple of months I have built my endurance quite a bit
and have also started to build up speed again. This regime will continue up to Helsinki
Half Marathon (after that I will start training for Tallinn Marathon). I have also
registered for a couple races prior to Helsinki but HMM will be my main event for the
spring season. Hoping to improve my personal best and enjoy great crowds and weather.
Fingers crossed and let's keep training!