March has come and gone.
We are approaching Helsinki Half Marathon at light speed, at least that's how it seems. Less than 2 months to go… Crazy! Where is the time flying? Anyway, let's catch up on what's going on with training & life.
March was dedicated to active race prep. Long runs, tempo runs, fartleks, intervals, core training: the regular drill for a long distance runner. I ran over 160 kilometres in March: not bad at all! In 3 months my training has been consistent & I already have 440 kilometres "in the bag". Quality kilometres. I like to call myself an honest realist but this gives reason for some optimism. 😉
Garmin has a wonderful indicative feature on their advanced sports watches: VO2max. My VO2max was on a constant rise throughout March, going from 46 to 49 in 3 weeks. Just as a remark: last year before Tallinn Marathon when I was in the best running shape of my life my VO2max was at 50. In March I was running towards my best shape, it seems. This is definitely reassuring news.
Life, however, has been quite hectic & doesn't show any signs of slowing down. It's quite a hassle trying to plan everything that needs to be done in my calendar. Working two jobs, plus many smaller projects at the same time is no joke. The last time I counted, I had 9 jobs/projects going on at the same time, not to mention remodelling my home, training, staying socially active & trying to keep a long-distance relationship alive. Long work days, tons of stress, never-ending to-do lists… It all has an effect – unfortunately, a negative effect – on training.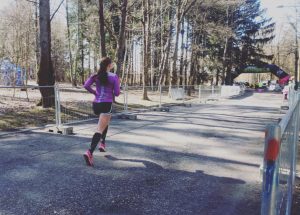 Last week was race week: the first race of 2018. However, I was feeling tired & somewhat "off" the whole first week of April. Training was not great. Everything was just… not quite right. :/ The last run before my race on Saturday was pure disaster: cold, wet, muddy, slow pace, heart rate way too high… Even my VO2max dropped after that terrible run. Oh well, I thought. Nothing more I can do now.
Despite not being quite myself all week & not even on race day, I still managed to improve my 7 km personal best by almost 2,5 minutes at Tartu Parkmetsa Run! 🙂 It was a tough race & my legs were not fresh at all. But who cares! A personal best is still a personal best. And the fact that I managed to run 7 km in 33:31 despite all the obstacles shows exactly who I am: a dedicated, mentally strong & highly motivated runner.
The rest of April is dedicated to training, since it is the last chance to train at higher intensities since I have 5 different races coming up in May & June. Every week is filled with a race. 1 May – 12 km, 13 May – 23 km, 19 May – 7 km, 27 May – 10 km, 2 June – 5 km & last but definitely not last 9 June – Helsinki Half Marathon.
Hopefully all goes well & my running shape will start to improve again. Fingers crossed!