How was it during the 25th Volkswagen Prague Marathon?
In 2018 I ran the street marathon twice – Milan in spring, and Tallinn in autumn, I also managed to improve my life record twice. When planning my starts in 2019, I've decided to face the royal distance only once.
25th Volkswagen Prague Marathon became the perfect choice for me. Why? It's very easy to explain:
1. The capital of the Czech Republic is beautiful and worth visiting also during the race, no one has doubts about it. I had a great desire to run across the Charles Bridge, through the Old Town market, but also wanted to visit districts which don't appear in guidebooks.
2. After all, I am a bohemist by education; taking part in the largest marathon in the Czech Republic was an honorary matter for me. Additionally, I just feel great in the Czech Republic.
3. The organizer – RunCzech is famous for organizing events at the highest world level. There was also some glamour added to the whole event by the fact, that it was the 25th jubilee and that the route has a Gold Label IAAF.
4. The date was perfect, because it was at the end of the long May weekend – there was no need to take even one day off work.
5. Since my birthday falls on 1st May, my wife suggested that she will give me a starter pack as part of a birthday present (!).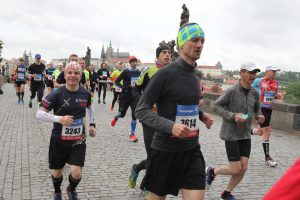 The day before the main competition we took part in a family run at a distance of 3 km. I run together with my wife, 5-year-old son, almost one-year-old daughter (in a stroller), despite the terrible weather. We did it together with a lot of other runners – it was great!
On Sunday, the marathon day, it was very cold. When I left the apartment in the morning, there were only 2°C outside! I had to put on an additional down jacket not to get cold. Over 10,000 runners were supposed to take part in the competition – the entire city was prepared for a big cross-country race. As 9:00 approached, we set off for a relatively fast and flat route – for more excitement and adventure.
I am not satisfied with my result, although it wasn't the most important thing for me. However, the atmosphere of Prague and the run itself, a perfectly prepared route, nutritional points, start / finish, facilities created for players – everything was perfect. RunCzech confirmed that it organizes events with great commitment and there's no way to pick on anything. It was the most beautiful marathon I have run in my life. And for many runners it probably was the perfect weather for breaking life records.