Where has the time gone!?
We are already half-way through May, which means that the Helsinki Half Marathon of 2019 is just over 3 weeks away! I am incredibly nervous and excited all at the same time.
 For the past few weeks I have learned so many important lessons in over-training, recovery, and patience.  Despite it all I have not lost my motivation. Every time I run I find new beauty in my surroundings and new benefits in my overall health.
 What would the perfect race day look like?
I can already see it in my mind.  For me the perfect race day would start with me waking up bright and early in the HHM2019 Partner hotel, the Radisson Blu Seaside Hotel and making my way to the dining area for breakfast.  I hopefully won't be too nervous to eat!  I'll pick something that is high in carbohydrates, moderate in protein and somewhat low in fat and fiber.  I'll try to drink enough water early on in the morning as well.
Still, my body will be fuelled up from the Pasta Party from the night before, and in the week before my diet will already be on a good track.  Since I've planned to arrive fairly early the day before I will already have my bib number and tee too (picked up from the 2ndfloor of Kamppi Shopping Mall). 
 All kitted up in my running gear, I'll make sure to lace up my Hoka One One Cliftons nice and secure and take a deep breath, go time! 
At some point I hope I will meet the other HHM2019 ambassadors, and we can get to the start location together.  It has been amazing seeing their journeys alongside my own and keeping motivated by reading their stories!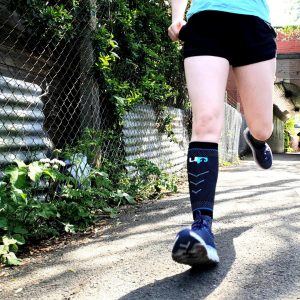 I want to get to the start line nice and early, figure out bag-drop, and find my starting location so I'm ready for the race to start at 8:30 am.  The race starts in front of Finlandia Hall on  the side of Töölönlahti from Alvar Aallon Katu. 
 It won't even matter what sort of weather we have. I'm sure it will be amazing just being in the energetic atmosphere created by everyone's hard work (both the runners and the HHM2019 team) and for myself being in Finland for the first time ever!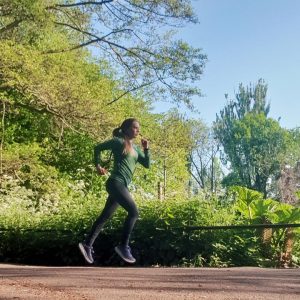 As soon as the race starts I'm hoping my mind will clear out any remaining nerves and that my legs will not be sore or heavy.  Of course I want to beat my old time from 10 years ago, but this will be secondary to simply being able to run freely. In a perfect race what matters to me is that I keep going, keep smiling, and enjoy this experience all the way to the finish line!  I hope that every step will feel like I'm flying! No matter how tired or sore, I'm sure I will feel this flying feeling as my heartbeat and breath calm and even out with my strides.  
Imagine it now with me! the sound of your shoes hitting the pavement, the sound of your breath in and out, the mantra under your breath, the miles ticking by, the drink stations you pass, the smiles and cheering from the crowd and volunteers…
Before you know it the finish line is just in front, a burst of energy fills your every molecule and you give it one last big push.  Muscles, lungs, everything straining for that strong finish.  Your foot crosses the line…the race is over… but that euphoric feeling will last forever in your memory.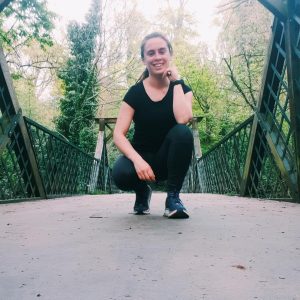 After the race there is plenty of celebrations to enjoy and relaxing to be done as well at Allas Sea Pool.  I can't wait to celebrate with everyone for their accomplishments.
Maybe I will surprise myself and run my fastest time yet?!  Only time will tell.  I can't wait to find out what happens for real on race day. 
What are your goals for this race if you are running this year?