My plans 2019: Many races, fun and new personal best!
My plans for this year consist of doing many races and having a lot of fun along with many personal best.
I kicked off the new year with running The Polar Night Half Marathon in Tromso with some friends in January which was a great experience. The race was ran at 3 pm and it was done in complete darkness (along with street lights). Combine that with snow, icy and arctic winds, I was faced with race conditions which I have never been in before. But I guess that's just normal conditions for Finns!
Last weekend I also competed in my second race of the year, The Barcelona Half Marathon. This was a really fun, sunny and warm race. The route was a bit challenging but was helped with the beautiful views and encouraging atmosphere.
For the rest of the season I am hoping to do a lot more Half Marathons and to hopefully run a personal best in the next run, which will prepare me for the Helsinki Half Marathon.
I will also like to do an ultra trail run at some point and maybe even a marathon but the destinations for these still need to be decided.
What are your plans for the 2019?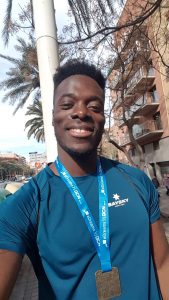 (Barcelona Half Marathon, February 2019)