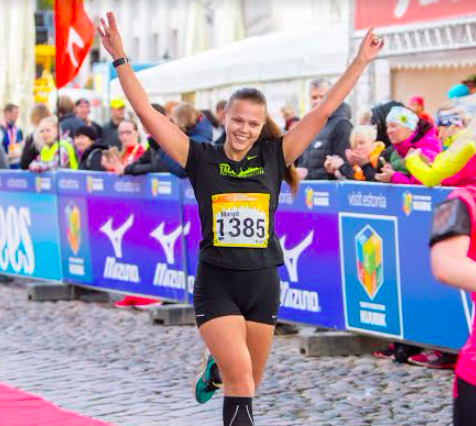 I am a 25 year old running enthusiast from Tartu, Estonia. I work full-time at the University of Tartu as an analyst and also try to run a business as a photographer as my side-job. I am also currently reconstructing our home in an old wooden house in the center of Tartu. Besides that I try to keep alive 2 blogs: one for my athletic life and one for my photography business. As you can probably guess, a very important part of my life is sports. It's a part of who I am: besides all the other roles – analyst, photographer, homemaker, blogger, friend, girlfriend, family member – I am also a long distance runner since 2013. I was never athletic as a child, quite the opposite: I was overweight or obese for the first 21 years of my life. Sports and specifically running has taught and given me so much in life. Every day I'm grateful that I made the choice to start a new, better chapter in my life. My running goals have changed a lot over the years. A couple of years ago I was obsessed with improving my personal best times. Nothing else mattered. I made the typical rookie mistake and overtrained. It was hard to come out of that hole. Ofcourse none of these amazing personal bests happened because I had overtrained. My body was not ready for that. I was misarable. Now my goal is to simply be happy – with my life in general and with running as well. I try not to obsess and instead of chasing certain time goals, my goal is to enjoy the journey, not only the destination. Running is my stress relief and time to spend with my best running team. Improving personal records is nice but not the most important. With that attitude I have somehow effortlessly managed to improve all my personal bests this year.
Workouts with my running team at TÜASK Fitnessklubi.
What are you expecting from Helsinki Half Marathon? 
I have only once before run abroad and I loved it. I'm expecting a nice summer weekend with a good, well-organised race and nice people.
Goal at Helsinki Half Marathon?
1. To enjoy the experience to the maximum 2. To improve my current personal best time
Half marathon PR? Other PR's?
10 km: 49:11; 21,1 km: 1:47:53; 42,2 km: 3:58:51
How you will prepare for Helsinki Half Marathon? 
For the Helsinki marathon I will continue doing what I successfully did in 2017: train 2 times a week with my running team (core exercises & interval runs), do some longer workouts on the weekend and fit some shorter runs on my weekday evenings. During off-season when I have close to no races (November–March) I also like to do BodyPump which is a strength & endurance workout. I hopefully will still have our running team coach giving me great advice like she has done for the past 4 years.
What inspired you to start running in the first place? 
Well, that's a hard question. The very first time I started running I was in middle school. We had been told we would run the Cooper's 12 minute test in some weeks. If we wanted to get the best grade – which I as a straight A student ofcourse wanted – we had to run 2000 metres (6:00 min/km pace). Give a challenge and I will accept it. So I started to train for that test on my own. I only run 2–3 km two to three times a week but it me, the fat girl, fit enough to get the best grade. Unfortunately the habit of running did not stick with me back then. I tried to start again a couple of times but could never run more than a kilometre at a time. I tried many times to run this 4 km lap we have where my parents live but always had to walk most of it. A lot of years passed and in 2013 my mom and I heard of this new low carb lifestyle that we decided to try to lose our excessive body weight. I also started to work out 3–4 times a week: I did mostly group group workouts or spent time on the cross-trainer. Then one time I was away for the weekend and didn't have access to a gym. But I needed to do my 4th workout that week… So I decided to go for a run on the same 4 km lap I mentioned before. I was sure I was going to speed walk most of it like I did some years before. A miracle happened: I ran the whole 4 kilometres. It was a HUGE emotional boost for me. I was so happy. I just could not believe it. Me, running, 4 kilometres. Say what? From that day I was hooked and slowly started to run. I decied to set a huge goal for myself: to be physically able to run 10 kilometres by the end of that year. I completed that goal. I ran three races that year and one of them was a 10K. It took me an hour and 11 minutes. The next year (2014) I ran 4 half-marathons, my best time was 2:07. A year after that I completed (ran & walked) my first full marathon despite over-training and not being fit enough in 5:08. In 2016 I tried to improve but failed. I was very disappointed because I didn't improve my personal best in marathon. It was the triegger to lose some weight again to see if that makes me any faster. It did. In 2017 I ran the marathon 69,5 minutes (!) faster than in 2015 and to my surprise made to the under 4 hour marathoners "club". I improved my half-marathon record by 18 minutes: ran it under 2 hours for the first time ever in the spring (sub 2:00 was my goal for 3 years!) and in 1:47 in the autumn. I managed to run 10 km under 50 minutes. I have completed all my goals and so much than I ever imagined. Can't wait to see whats next. 🙂
Best way to follow Margit: 
Blog: http://healthymargit.com (in Estonian only)