What a whirlwind of an event! 
I really couldn't sit still on the morning of the race as I paced the hotel lobby until fellow ambassadors Aaron and Piotr joined me on the walk to the start line. 
We walked from the Radisson Seaside hotel to the start area, which was a nice warm up! We noticed that more and more people wearing HHM shirts appeared, all headed in the same direction, until it reached a critical mass of neon pink and green at Finlandia Hall. There was no missing it!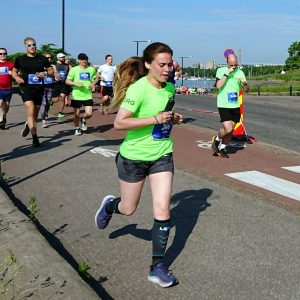 We found bag drop which was divided up by numbers, nice and easy! Have to say, the organization of all the elements of the race was on point!
I remembered reading online one major tip was to queue up for toilets as soon as possible…to my shock there seemed to be miles of people waiting at the portaloos! I anxiously waited and waited for my quick toilet break (I'm pretty sure some people dashed to the bushes for a quick pre-race leak) before sprinting to join the race line-up seconds before the start was announced… close one!!! 
I even ran into another ambassador, Jaakko, next to me in the line-up!  A quick hello and then we were off! 
It's those first few kilometers where the doubt really sets in… and man, that heat! The high temperatures on this day were going to be a major challenge theme throughout.  
Within the first 5K I faced my first major obstacle beyond the heat… the monster of all arch blisters started to develop on my left foot.  At the first water station I frantically unlaced my shoe, repositioned and re-laced. A deep-breath and I was off again hoping to make up for lost time. 
Seeming disaster seemed to strike again as I lost feeling in that foot, alternating with pins and needles for another few K more! Oh no! It hadn't occurred to me to pack a sterilized needle or plaster… though In the future I think I will. 
Despite the pretty-painful distractions, I had to keep going!  If nothing else I had to make it to each next station to see if I could fix my issue.
The water stations were absolutely essential on a day like this.  I tried my best to drink some of the energy drinks, but in the heat, nothing beat plain cool water…both to drink and to pour all over myself!
The heat got to everyone; some more than others.  All along the way I saw the nature of runners come through- that of pushing themselves to their absolute limits.
I was really impressed by the music and entertainment along the route.  It was really thoughtful of the organizers to put this together. Though I couldn't really take it all in; I had brought a 360 camera that I held in the air to capture moments along the way. My favourite acts were the DJ's who chose music so well that it sent chills down my spine… or that could have been the heat?  Either way I was glad for the extra boost of energy every time I passed a DJ booth.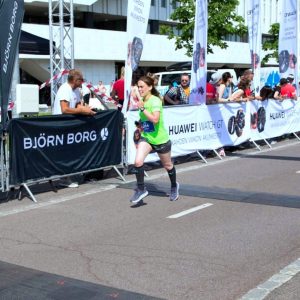 I think the children cheering along the route were the best! Not yet grown into a reserved idea of cool, they shouted loudly and offered high-fives to runners; power up!
There were also so many unique landmarks that we sped by…or ran through? Who can say their race has gone through a market, or shopping mall? Not many. I made a note to revisit these after the race. 
Before the race I had promised myself that I wouldn't walk, but I have to say this time I did walk a few times due to the injury and its knock-on effects.   It was hard not to be dissapointed… especially as I saw my goal time pacer pass me by…and then later on another.  
But then it struck me, I was still standing, I was still moving.  One foot in front of the other I was still nearing the finish line surrounded by a crowd of equally determined runners.  I think without them it would have been hard to keep going. I feel like in this race I had more than a second wind, there was also a third wind, and fourth and countless more moments where I could dig deep and find more stubborn willingness to go on.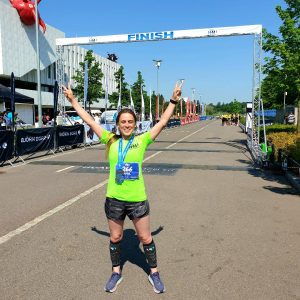 We rounded a corner by some cool-looking water (daydreams of going to Allas Sea Pool after flitted through my mind) and suddenly I could see the end area in the distance!!!!  I felt a different kind of determination inside and picked up the last of my energy to make the final sprint.  I think I started shouting nonsense at this point, encouragement to myself and anyone in earshot: 'Allez! Venga! Let's go!'
Before I knew It I was crossing the line, receiving my medal and shakily trying to work out what to do next; but above all else I felt elated.  I was happy to have done it, happy to be finished, happy to have accomplished my longest run in 10 years. This was huge!  The time wasn't what I had hoped, about 20 minutes off my goal, but I could feel that this race had sparked a new determination.  This wouldn't be the last that running has seen of me!  And Helsinki, I love you too! See you again some day soon, I promise.