Helsinki Half Marathon is looking for event ambassadors for HHM2020!
Helsinki Half Marathon 2020 will be organized on June 6. If you want to run in Helsinki and be part of one the most international running events in Finland, this is your chance. We are looking for international runners around Europe and from Finland to become our event's #HHM2020 ambassadors. Leave your application before October 31 and we will contact the chosen runners in the beginning of November.
What do we offer to all our HHM Ambassadors?
– Two-nights (Fri-Sun 5.6.-7.6.) accommodation at our official event hotel (shared double room with other ambassador)
– Travel support (Equal to minimum of 75% of the costs for cheapest reasonable travel.)
– Transportation from the airport/port to the hotel
– Helsinki Half Marathon entry
– Pasta party coupon
– Support from our partners along the journey (upon availability)
What do we expect from our Ambassadors?
– Passion for running! You can be a competitive runner, fun runner or just starting your running. As long as you are more than willing to run Helsinki Half Marathon next year.
– Minimum age 18
– Share the journey towards Helsinki Half Marathon via social media (Nothing too rough! Min. two blog posts in your native language…Other responsibilities we agree with all the participants personally)
– Biography to our HHM website (in your native language)
– Activate your followers in social media (Agrees personally)
– Something extra? If you have anything in your mind, tell it to us!
How to participate?
The application process has ended. Please contact: info@helsinkihalfmarathon.fi
You can also share your passion to become one of our ambassadors by using the hashtags below:
#WeRunHelsinki
#HHM2020
#helsinkihalfmarathon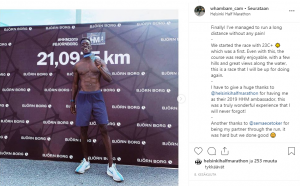 It's Done!!
–
Finally! I've managed to run a long distance without any pain!
–
We started the race with 23C+ 🌞which was a first. Even with this, the course was really enjoyable, with a few hills and great views along the water, this is a race that I will be up for doing again.
–
I have to give a huge thanks to @helsinkihalfmarathon for having me as their 2019 HHM ambassador, this was a truly wonderful experience that I will never forgot!
–
Another thanks to @semaecetoker for being my partner through the run, it was hard but we done good 😊