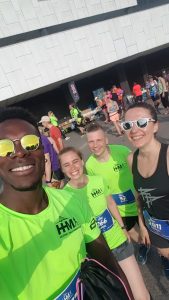 I started the morning at 6am with preparing all of my gear and then going on to having breakfast. On the way to walking to the race we could all feel that it was going to be a very warm day, which got me excited but also curious to how the race plan should go since it was so warm.
On my way to start of the race you could really feel the excitement in the air as everyone was gathering to get into position.
Before the gun went off, I decided to run the HHM with one of my training partners, this helped a huge deal as we decided to play it very smart and not push off to early. As we started the race and got more into it, we could see that this was going to be a very beautiful route. It was really nice to run past the water and the different buildings and areas within Helsinki, it was like running on a guided tour. When the route started to get a bit hilly, this is when the challenge began. About half way through the race we decided to slow down and keep a constant pace so that we again would not get too exhausted and could finish without being in too much pain.
The best moment of the race was coming around the lake and seeing where the finish was, we could hear the music and the crowd which drove us on to pick up the speed a bit and get to the finish line with smiles on our faces.
This was an amazing route which I have already recommended to people, the atmosphere and weather made this a truly great day!
Aaron