Butterflies in the stomach
Have you ever felt butterflies in the stomach before a race?
When this happens to me, I know that it will be a good run. Or so I hope.
It is now just one week to go for the Madrid Marathon and I can already feel the adrenaline kick.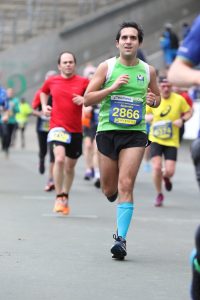 Last Sunday I did a test run in Seligenstadt (somewhere between Hessen and Bavaria) and in fact I was quite scared.  When training for a long distance, it's always difficult to resist the temptation and not to push too much on the 10km. 
However I didn't want to risk getting injured and ruin months of training so close to the marathon. In the end, despite some stomach cramps, it all went quite well and I managed to finish under 45 minutes.
Fast enough for me but not too fast. Now come the most challenging moment: maintaining the right level of tension in the legs but tapering enough to arrived well-rested before the race.
What are your tricks and training routine the week before a big run?
Have you already thought about your training schedule before the Helsinki Half Marathon?
Join now the discussion with the #HelsinkiHalfMarathon Ambassadors on Facebook and Instagram.
Yours,
Alejandro
P.S. My friends keep tempting me with some nice races for the rest of the year but I cannot make up my mind: Roma  Mezza Maratona (17 June) or Hella Hamburg Halbmarathon (1 July)? Please help me decide using the post comments.